News & Events
PROFESSIONAL CERTIFICATE IN COMMERCIAL ARBITRATION
15 - 18 September, 2021 [Online]
The program provides knowledge and an appreciation of commercial arbitration and its role within the Indian legal system. The program will provide a solid foundation for participants to represent in Commercial Arbitration as an Arbitration Lawyer and as an Arbitrator. The regular offline program is conducted for 3 days (24 hours). Due to the present pandemic of COVID-19 and travel restrictions, the program is conducted online extending 4 days. The next program is scheduled from 15 - 18 September, 2021. The timing will be from 10.00 am to 5.30 pm. For details about the program, testimonials from previous participants, application form etc.,
Click here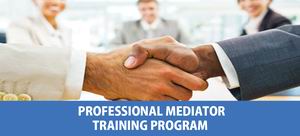 PROFESSIONAL MEDIATOR TRAINING PROGRAM
30 Sept - 09 Oct, 2021 [Online]
Are you interested to become a Professional Accredited Mediator? With the rise in the volume of business, dispute resolutions and enforcement have also increased. Mediation has become an undeniable part of the legal landscape. Domestic and international business community is increasingly incorporating mediation as the primary method of dispute resolution. A trained mediator guides the parties toward solutions that are workable and longstanding. Mediation has become a truly global profession, earning international recognition. The IIAM Mediator Training Program offers the opportunity to learn what is necessary to become an effective negotiator and a skilled mediator and also assist you to start your professional mediation practice through IIAM Affiliation. The regular offline program is conducted for 6 days (55 hours). Due to the present pandemic of COVID-19 and travel restrictions, the program is conducted online extending 8 days. You can also opt to do 40 hours and add on the next 15 hours later. The next program is scheduled from Thursday, 30 September to Saturday, 09 October, 2021. October 2 and 3 will be holidays. Timing will be from 9.30 am to 5.30 pm. For details about the program, testimonials from previous participants, application form etc.,
Click here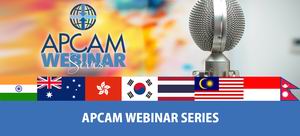 APCAM WEBINAR SERIES
26 August, 2021
APCAM Webinar series is conducted by the Asia Pacific Centre for Arbitration & Mediation, which will be held on all Second Saturdays of every month at the same time. The APCAM Webinar series will be a global tour of all jurisdictions, discussing about the ADR developments regionally and globally by the most reputed professionals and stakeholder from global jurisdictions. The 3rd APCAM Webinar will be conducted on 26 August 2021, on the topic,
"Third Party Funding in ADR – "Show the Money"
. For details about the webinar, see
APCAM News & Events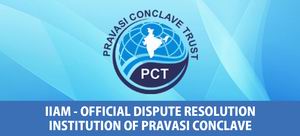 IIAM OFFICIAL DISPUTE RESOLUTION INSTITUTION FOR PRAVASIS
25 February, 2021
IIAM has been named the "Official Institutional Dispute Resolution Organization" for the Pravasi Conclave Trust (PCT), a representative body of all Pravasi organizations all over the world, like WMC, WMF, FOKANA, FOMA, GOPIO, etc. Now the non-resident Indians will have a centralized institution for resolution of their disputes by way of mediation or arbitration, from any part of the world. For details,
Click here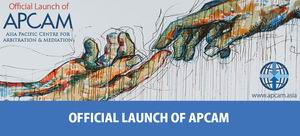 OFFICIAL LAUNCH OF APCAM
The official launch of Asia Pacific Centre for Arbitration & Mediation (APCAM) was conducted digitally on 6th August 2020. Mr. Justice R.F. Nariman, Judge, Supreme Court of India inaugurated APCAM. The APCAM Arbitration Rules were launched by Mr. Justice Neil McKerracher, Judge, Federal Court of Australia, APCAM Mediation Rules by Prof. Justice Chang-fa Lo, Former Justice, Constitutional Court of Taiwan, APCAM Accreditation Rules by Mr. Nopporn Bhoirung-siyakorn, Vice President of the Supreme Court of Thailand and APCAM website by Mr. Justice Anup Raj Sharma, Chairperson, National Human Rights Commission, Nepal. Felicitations were offered by Mr. Justice M.N. Venkatachaliah, Former Chief Justice of India, Mr. Justice Madan B. Lokur, Former Judge, Supreme Court of India, Mr. Phongthep Thepkanjana, Former Deputy Prime Minister and Chief Judge, Thailand, Hon. Clyde Croft, Former Judge, Supreme Court of Victoria, Australia, Prof. Dr. Mieke Komar, Former Justice, Supreme Court of the Republic of Indonesia, Mr. Rimsky Yuen Kwok-keung, Former Secretary for Justice of Hong Kong, Mr. Justice Keshari Raj Pandit, Former Chief Judge, High Court of Nepal, Mr. Justice Takdir Rahmadi, Chair of the ADR Task Force, Supreme Court of the Republic of Indonesia, Mr. Justice Syed Kemal Shah Bokhary, Non-Permanent Judge, Court of Final Appeal, Hong Kong, Dr. Jonathan Choi Koon-shum, Chairman, The Chinese General Chamber of Commerce, Hong Kong, and Prof. Nadja Alexander, Member, Advisory Board of United Nations Global Mediation Panel, Singapore. The inaugural program was broadcast live in Zoom, YouTube, Instagram and other social media and Live Law was the official media partner. The inaugural program was watched live by more than one million people all over the world. The program can be seen in the Gallery of
APCAM website
.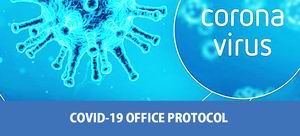 COVID-19 OFFICE PROTOCOL
IIAM is pleased to announce that it has resumed its activities of conducting arbitrations and mediations at its premises in New Delhi and Cochin, w.e.f 18th May 2020. With parties, arbitrators, mediators and lawyers coming to the institution, we need to create sense of trust for the people working in the institution and visiting the institution. Considering the procedural measures that can mitigate the effect of COVID-19 pandemic, the activities and facilities in IIAM shall strictly be subject to the COVID-19 Protocol. See the IIAM COVID-19
Office Protocol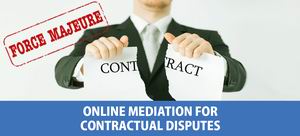 ONLINE MEDIATION FOR CONTRACTUAL DISPUTES
The Covid-19 pandemic has presented unprecedented challenges and impediments to businesses in conducting their normal operations. The lockdown across the world has caused delays in the performance of contracts and transactions. The question that arises is whether the current situation can enable parties to a contract to alter their obligations with non-compliance of terms putting it under "Act of God" or "Force Majeure". There could be a flurry of notices invoking force majeure clauses and attempting to bail-out of contractual obligations. But we need to understand that this time of distress too will pass. We have to recommence our trade and business operations. If we opt to frustrate the present contracts invoking force majeure, the trust and relationship between the business partners also will be lost. We need to find solutions which can preserve the contract and business as well as tide over the present situation. Pre-litigation mediation is the answer. Travelling restrictions around the globe or within the country should not affect your option to initiate mediation. You can use the online platform of Peacegate to initiate your mediation process for a faster and innovative resolution, so that the present situation can be avoided and at the same time preserve the existing business relationship. Log on to
www.peacegate.in
or contact
adm@arbitrationindia.com
.
Seminars & Conferences
IIAM and APCAM conduct Seminars, Conferences, Workshops and Law Lectures on topics of current legal importance related to ADR. This is to create awareness among professionals, corporates and public about the latest trends and development in the field of ADR.
IIAM and APCAM also conduct National and International Seminars in association with Academic or Industry partners on the subject of ADR or other related topics. IIAM also endorses programs related to ADR conducted by reputed organisations. For further details or for partnering with IIAM; mail to:
events@arbitrationindia.com