Certificate in International Business Negotiation
(Code: ITP02) (3 days)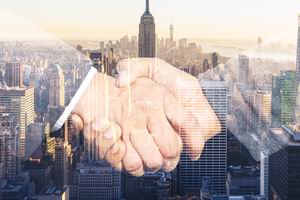 The Certificate in International Business Negotiation (CIBN) is designed to provide a thorough understanding of negotiation process, power and how this impact on people. The strategic negotiation framework enables participants to take total control of their negotiation environment no matter how complex the situation. It will cover the basic foundations for effective deal-making negotiations, understanding the bargaining style, setting goals in negotiation, explore specific techniques in maximizing each party's potential to negotiate at their best and understand the essentials of shadow negotiation, nurturing relationships critical to negotiation success, and maximizing leverage to conclude a deal.
It will focus on the dynamics of power in negotiation – who has it, how did they get it, how is it used, and how it impacts deals or settlements. The program takes participants far beyond standard 'negotiation models', 'bargaining', with refreshing discovery learning style and content which will change the outlook and behaviour of human interaction. The program covers the basic foundations for effective negotiation, understanding the bargaining style, setting goals in negotiation, finding the deal space or trading zone, identifying shadow negotiation tools, nurturing relationships critical to negotiation success and maximizing leverage to conclude a deal. Through discussion and role-plays, it will focus on the structure, skills, strategies and goals of negotiation. The CIBN, which is a 20 hours program (3-days), will help participants integrate innovative techniques into their work by learning techniques for creating value in negotiation, learning how to use differences and disagreements to your advantage, understanding how to negotiate what you need without sacrificing the relationship, recognizing and responding constructively to difficult negotiation tactics.
Additional benefits, more options!
Participants who successfully complete the CIBN program, is eligible to join the Professional Mediator Training Program of IIAM
(PMTP)
, which is an APCAM certified program, through lateral entry on the 3rd day of the program*, and become a professional mediator and get the chance of empanelling as a professional mediator in appx. 10 countries.
Eligibility:
Any professional, like lawyer, engineer, company secretary, chartered accountant, management professional etc. or a businessman, a retired judicial officer, retired teacher, banker, graduate or homemaker or person who has undergone graduate-level education are eligible for enrolment in this program.
Evaluation & Certification:
The participant will undergo certain roleplays. They are designed to help the participant to understand the practical skills of negotiation. The participant's attendance and interaction during the program and roleplays will be assessed. On successfully completing the program, the participant will be awarded the certificate, along with the course transcript.
Application:
Applicants are required to submit the completed application form, tuition fee and all required documents. No final decision about an application can be made until this documentation has been received and inspected to IIAM's satisfaction. For more details, mail to
training@arbitrationindia.com
Fee:
INR 25,000.00 (Indian participants) | US$ 410.00 (NRI participants & participants from SAARC Region) | US$ 460.00 (Foreign participants)
(Fee includes Training material) ♦ Payment may be made in favour of "Indian Institute of Arbitration & Mediation, Delhi". ♦ For cancellation and refund policy, please refer the application form.