The Indian Arbitrator - IIAM News magazine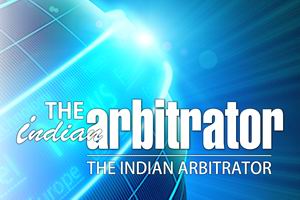 IIAM publishes an online news-magazine "The Indian Arbitrator". The magazine is intended to give information about different forms of dispute resolution methods and the latest news and legal developments on ADR happening in India and different parts of the world. The magazine also aims to create a binding relationship between the Institute and its members. The magazine was officially launched by Mr. Justice M.N. Venkatachaliah, former Chief Justice of India on
15th of August 2003
, the Independence Day of India. The magazine was changed to online from 2009 onwards. The magazine was made dynamic by including in the Peacegate App from 2019 onwards. The magazine is also available in the weblink –
https://theindianarbitrator.com
Editorial Board
The Editor of the magazine is Mr. Anil Xavier, a legal professional experienced in ADR and an APCAM International Certified Arbitrator and Mediator and IMI Certified Mediator. The Editorial Board is comprised of Dr. Rajesh Sharma, Senior Lecturer, Legal and Dispute Studies, Criminology and Justice, RMIT University, Melbourne, Australia and Adjunct Professor at Academy of International Dispute Resolution and Professional Negotiation (AIDRN) and Ms. Iram Majid, Advocate, Arbitrator, APCAM International Certified Mediator and IMI Certified Mediator.
Interested to Contribute Articles?
We would like to have your contributions. Any original, innovative and thought-provoking ideas related to ADR may be shared with us. Submissions may be made to the Editor. Publication of the Article will be the discretion of IIAM and submissions made indicates that the author consents, in the event of publication, to automatically transfer this one time use to publish the copyrighted material to the publisher of the IIAM magazine.
Promoting Student Authors
With a view to promote and support students in developing the qualities of legal research and presentation, IIAM is providing opportunity to law students to publish original, innovative and thought-provoking articles on arbitration, mediation, conciliation, dispute resolution and similar topics and critiques on judgments relating to the same topics. From among the submitted articles, every year one student author will receive the "Best Young Author" certificate from IIAM.
Submission Guidelines
Articles should be in English. The article should not normally exceed 2500 words. For exemptions on ground of topic requirement, relevance etc., contact Editor. Please make sure that the prose is clear and the spelling and grammar are correct. The documents must be in MS Word (.doc) format. Along with the article, please submit a concise lead section that summarizes the topic. Please take care that quotations, references and footnotes are accurate and complete. Quotations should be clearly indicated and double quotation marks should be inserted at the beginning and end of every quotation. Foreign words not currently absorbed into the English language should be italicized. All citations and notes are to be shown as footnotes. Submissions can be made by email, attaching the document. For further details mail to
editor@arbitrationindia.com