IIAM Community Mediation Service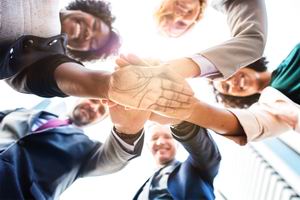 IIAM Community Mediation Service (IIAM CMS) with the motto; "Resolving Conflicts; Promoting Harmony" is a unique system of establishing "Mediation Clinics" designed "for the people; of the people and by the people". IIAM CMS means neighbours helping neighbours to solve problems and resolve disputes. The Mediation Clinics will have the service of trained Mediators selected from the community. The mission of IIAM CMS is to bring justice to the doorsteps of the people. It is meant to provide an opportunity for citizens to participate in the prevention and early intervention of conflicts as an alternative to institutional mechanisms. It promotes social harmony and access to justice for the ordinary citizen in a consensual and humanistic way against the background of adversarial system of judging who is right and who is wrong. The intention is to create a culture of resolving conflicts in collaborative method founded on traditions of dialogue, interests and needs.
This will promote peace and harmony in the society and empower the people to deal with conflicts. Empowering the people through this mission can collectively produce spectacular results. The Mediation Clinics also help to save significant court time by addressing situations more appropriate for mediation, allowing the Courts to deal with more serious cases. It also saves disputants time and money, but most importantly the Mediation Clinics seek a win-win scenario for both parties. Community mediation also helps in restorative justice through its variety approaches and restoring the offender in community by giving correctional practice thereby giving everyone a second chance. Sometimes victims of crime need answers and apologies more than they need to know perpetrators are being punished; and sometimes offenders need to find out just who they've hurt to realize what they've done is wrong. There is no conflict without emotion. There can be no resolution of a conflict without addressing the underlying emotions that gave rise to it and sustained it. While getting the two sides together to talk is not a normal part of the judicial process, mediation makes it possible. Restorative justice, particularly community mediation programs, help victims heal. IIAM CMS was launched nationally by the Chief Justice of India on 17th January 2009. It is endorsed by the International Mediation Institute (IMI). Setting up of Community Mediation Clinics in all villages of each state with a view to mediate all disputes will bring about a profound change in the Indian Legal system. It would also develop a new dimension to social welfare and empowerment and thereby create stable families and healthier societies.